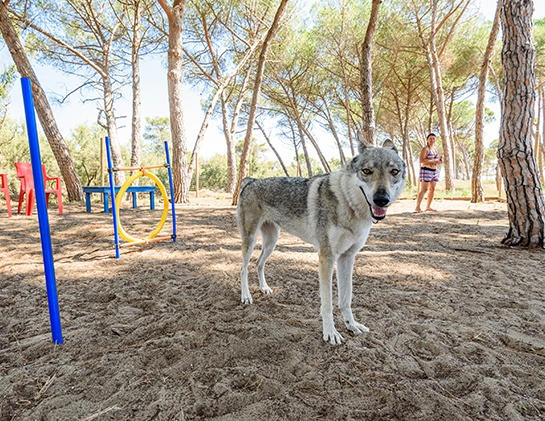 Dog friendly beach and educational routes
At Bagno Orizzonte you can bring your puppy with you, under the umbrella and in the fenced area where you can have fun and relax in the shade of the pine forest.
With the train of the Village you will arrive a few steps from the DOG BEACH, one of the most beautiful of the coast where you can spend your days together with your faithful friend.
In addition to the spaces dedicated to animals, inside the village you will be able to take advantage of the educators of the anthropological zoo center of education and canine culture "Terra di Artemide" whose goal is to create a psychophysical balance between the dog and its owner. Thanks to their experience and love for dogs they will be able to show you the program that best suits your needs.
If you want to improve the relationship with your dog, try to understand and correctly interpret the needs of your faithful friend, the educator will be able to guide you and help you to set the daily routine correctly.
Walk in six legs and communication classes
Holidays are a time of relaxation and fun not only for us, but also for our animals, so it is important to choose a DOG FRIENDLY village, which focuses not only on the needs of tourists but also on their hair!
Take part in six-legged walks that will take you to discover the area every week and give you unique and fun moments with your dog in the open air.
In couple it's nice but in group the fun is even more! During your holiday you can participate in social gatherings with other dogs and other human beings to teach your faithful to socialize and stay in a group in contexts other than everyday life. Educators will organize group and individual activities and will guide you step by step in this new adventure!
Olfactory search and mobility course
Stimulate your dog with fun games and exercises and help him develop his best sense: the sense of smell! With the course of olfactory research the dogs are challenged in research in the field, on the track, in cone and search for people. A recreational and educational moment that will increase its olfactory power.
Would you like to see his level of attention and agility improve?
What you need is a mobility course, during which you will learn while having fun overcoming an obstacle course and responding correctly to your "commands".
No race and no winner … the courses organized in the village have as their main purpose to entertain your puppies and to teach you some "tricks" to tighten an even stronger bond with them!
Dog sitting
If during the holiday you want to carve out some moments for yourself or you need to leave your dog for a few hours, you can entrust it to expert dog sitter graduates with qualifications of dog trainers and operators in Pet Therapy, who will cuddle him lovingly.