Dog school and behavioral consulting
During the stay our guest can book a lesson with our dog trainers to build a good relationship with their dog, learn to communicate with them and listen to their needs so tob e able to solve bvehavioral problems and improve the dog's social inegration.
individual meetings by appointment
Costs: 40 €
Educational Laboratory
At these meetings, the focus is on the relationship between humans and animals. Children can learn how to deal with nature and other living beings in a constructive way and with specific educational goals.
weekly small group meetings
Costs: 5 €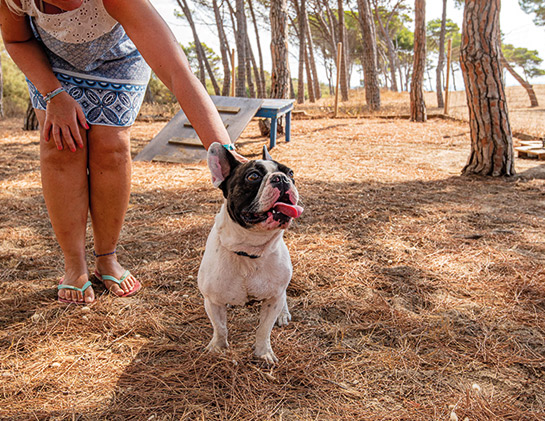 Dog Welcome
Saturday we will welcome our four-legged guests and you in the holiday-village! You will find us at the Dog Point, a little gift is waiting for you. We will present our program, show your the equipped areas and give you some tips to make your holiday together with your dog unforgettable!
SATURDAY 10:00-13:00 / 16:00-18:00 / 21:00-23:00!
Dogsitting
A personalized dog sitter service means leaving the dog in good hands for a few hours without worry. The dog can stay outside, well controlled by specialized staff that will take care of him with competence and passion. Individual and personalized dog sitting can be arranged.
Times: 8.00-12.00 and 16:00-19:00
Costs: 15 €/hour
Walk with breakfast by the sea
Start your day with a nice walk together with your dog and our dog trainers – the best way to increase well-being of both, dog and owner.
weekly small groups
Costs: 10 €
Walk with aperitif by the sea
Enjoy a wonderful sunset walk with your dog, in company of our dog trainers. A delicious aperitif under the fresh pinewoods of Orizzonte's lido will be the perfect ending.
friday, 6 p.m. – 7 p.m.
Costs: 15 €
Dog point
In the evening, at the piazzetta of the holiday village, the dog trainers will be available for information, advices and tips on how to organize your holiday with your four-legged friend.
Monday-Tuesday-Thursday-Friday-Saturday 20:30-22:30